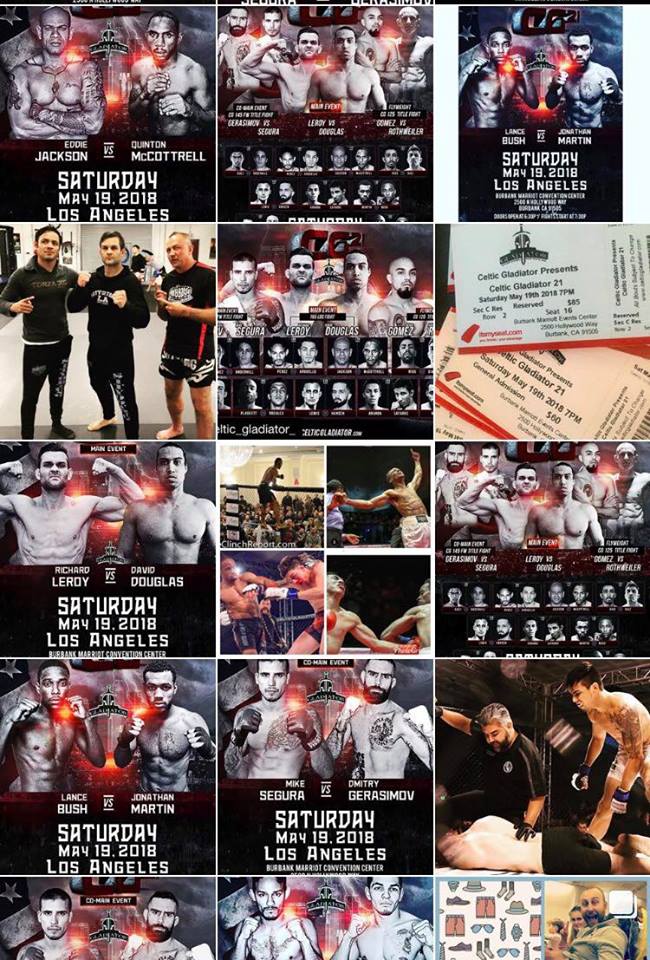 International MMA sensation Celtic Gladiator returned to Burbank, California for Celtic Gladiator 21 and the local crowd loved every violent minute.

Three amateur bouts opened the evening's festivities and the talented pool of up and comers did not disappoint.  The main card of 8 professional bouts was electric including two title bouts to cap of the evening.

Zhora Sahakyan dominated his opponent Ivan Beltran en route to a lopsided unanimous decision victory.
Ivan Agapchev appeared to be in clear control of his opponent Joseph Thomas, but a few ill timed fouls ended up costing him a point on the judges score cards.  The crucial deduction led to a majority draw, leaving no clear winner.

Ali Nazari survived a nasty cut on his scalp to secure the first round finish over a very tough Mike Mazariego.

In the first pro bout of the evening, Jonathan Martin was able to choke out his opponent Lance Bush who refused to tap, instead opting to go on his shield as the choke put him to sleep.

In a back and forth war of attrition talented up and comers, Hugo Aranda emerged victorious over a a very game Aaron LaFarge
A gruesome injury to the ankle of Tommy Aaron prematurely ended a very entertaining bout with Northern California veteran Samuel Alvarez. Alvarez found early success with his hands dropping Aaron several times in the first round, but the ending sequence came when Aaron went to answer the second round. A nasty displaced fracture of the ankle became obvious as soon as Aaron stood up. With Aaron unable to continue, the victory was rewarded to Alvarez.  Aaron was rushed to the local hospital due to the extent of the injury.

The injury bug struck again in the very next bout, as Eddie Jackson damaged his knee defending a takedown from Quentin McCotrell in the opening minutes of round one.

The grappling pedigree was on display in the next fight as Sergio Perez and Milton Arguello put on a transition clinic. However in the end, it was the ground and pound that captured Perez the victory. Arguello jumped quickly to his feet and protested the stoppage but to no avail. Perez picked up another impressive win.

It may not have lasted long, but Richard Leroy and David Douglas were swinging for the fences from the opening bell. Douglas rocked Leroy with some pretty heavy shots that seemed to awake 'Mr Leroy' from his early slumber. With Douglas fading, Leroy poured it on from mount and inspired the finish with some heavy ground and pound.

In the co-feature bout of the evening Kyle Estrada and Benji Gomez battled it out in a 3 round war that ended with a razor close split decision. One judge saw it 30-27 for Gomez.  But Estrada had swayed two other judges with his performance, earning him th inaugural Celtic Gladiator Flyweight title.

In the main event of the evening, Dmitry Gerasimov wasted very little time, needing only 24 seconds to secure the win, and his featherweight crown. His opponent Mike Segura came out looking to establish his range but an over hand right hand from Gerasimov hurt and dropped Segura. Smelling blood in the water, Gerasimov followed his wounded pray to the mat and secured the win with his trademark darce choke submission. The win earned Gerasimov the coveted Celtic Gladiator Featherweight title.