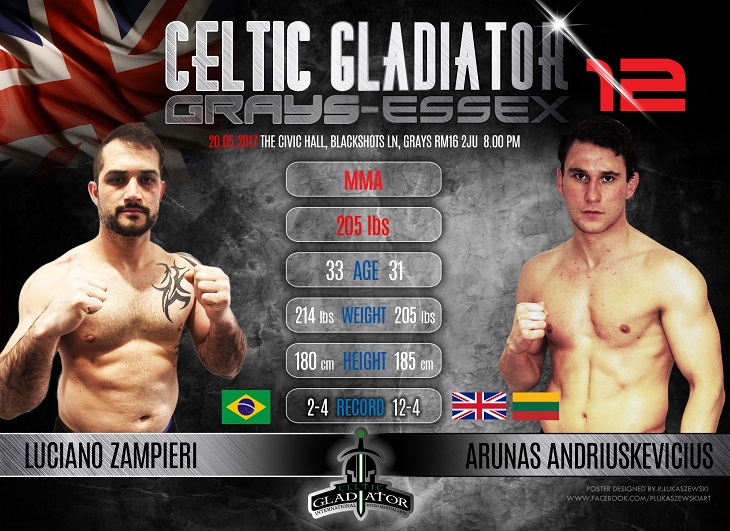 One of the more interesting clashes taking place on Celtic Gladiator 12 is the Brazilian-Lithuanian light heavyweight duel between Luciano Zampieri and Arunas  Andriuskevicius.
Arunas Andriuskevicius is 31 years old and comes from Vilnius, Lithuania. He has lived in England for years and trains in the renowned London Shootfighters gym, where his coaches are Paul Ivens and Alexis Demetriades. Arunas has a record of 12 wins and 4 defeats, with 9 of his victories comimg via knockout.

34-year-old Luciano Zampieri is from Matelansia, Parana, Brazil, but he currently lives in London. He trains as part of Zamp Top Team and his coach is Leonardo Gosling. Luciano started martial arts by practicing the Korean styles Kyok Sool Wan and Hap Ki Do. As a professional he has fought 6 times, with both his victories coming by knockout.
Celtic Gladiator 12 takes place on the 20th May in the Civic Hall at Blackshots Lane, Grays, Essex.
Tickets available at: www.bilety24.uk, www.tickets.ie and www.celticgladiator.shop.