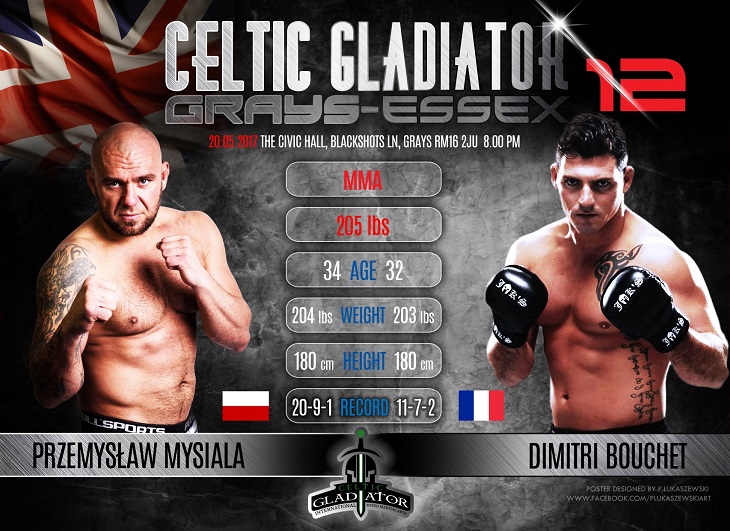 Przemyslaw "The Polish Bear" Mysiala will face Frenchman, Dimitri Bouchet, in a light heavyweight bout in the co-main event of Celtic Gladiator 12, which takes place on the 20th May at the Civic Hall in Grays (Essex).
Przemyslaw Mysiala, 34, has been a champion in organisations all over the world, including the UK, where he won the Angrrr Management belt in 2008, in 2009 was the Temporary Master of Ultimate Warrior Challenge and Extreme Brawl Master. In 2011 he won the Russian ProFC belt and in 2016 he claimed the gold in Poland's FEN organisation.  Przemyslaw is a true veteran of the sport and has a record of 20 wins and 9 losses. Such an impressive record has seen him compete on Bellator, and his record is even more impressive considering the fact has has also won gold at the heavyweight division, where he was the champion of Shock n' Awe. Mysiala has a black belt in BJJ, which he received from Maxmiliano Oliveira Campos and he represent American Top Team, where he trains under Andy Zajac.

32-year-old Dimitri Bouchet is known as "The Butcher" and be began his martial arts career training Wushu, where he has been a national champion in France as both an amateur and a professional. He is also accomplished in Aikido. Dimitri has a record of 4 wins, 4 losses and a draw in MMA and he represents Team Tiger & Dragon and is coached by Patrick Castaldi.
Celtic Gladiator 12 takes place on the 20th May in the Civic Hall at Blackshots Lane, Grays, Essex.
Tickets for are available at: www.bilety24.uk, www.tickets.ie and www.celticgladiator.shop.