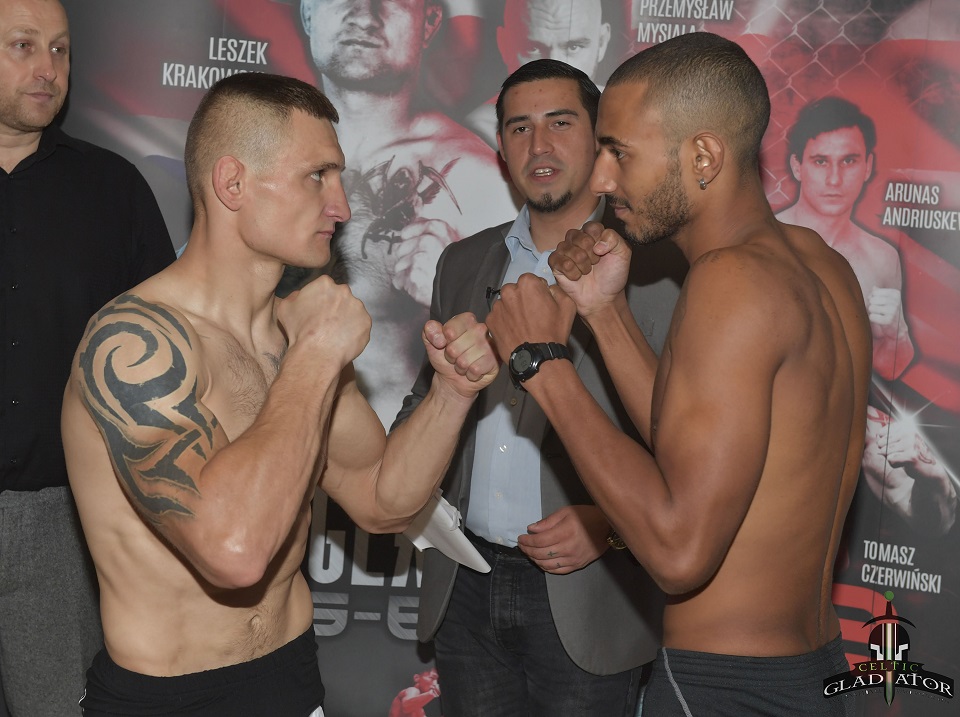 The weigh-ins have been held for Celtic Gladiator 12 and we are delighted to announce that all nine of our fights are now scheduled to go ahead.
There was some mild controversy as Luciano Zampieri missed weight by two kilogrammes on his first attempt; however the Brazilian managed to hit the light heavyweight limit the second time around.

There was a 500 gram weight allowance and several of the fighters took advantage of it, including one half of our main event, Leszek Krakowski and Londoner Alex Montagnani. The event starts at 8pm and from 9pm will be broadcast live on Fight BOX HD.

Celtic Gladiator 12 takes place in the Civic Hall in Grays, Essex on the 20th May.
It will be streamed live at: http://www.filmboxlive.com/pl/kanaly_na_zywo/4367668/fightbox
 
Full Celtic Gladiator 12 Card

Preliminary Card 1
K-1 73 kg: Mateusz Bak (71.7 kg) vs Armando Monteiro (70.15 kg)
K-1 47 kg: Gemma Montefiore (46.95 kg) vs Cill Wan (46.3 kg)

Preliminary Card 2
K-1 56 kg: Katarzyna Twardowska (55.7 kg) vs Filipa Mourao (54.4 kg)
MMA 120 kg: Tomasz Czerwiński (118.2 kg) vs John "Chopper" Painter (106.5 kg)
MMA 120 kg: Leonardo Gosling (97.7 kg) vs Jose Agustin Garcia (102.7 kg)

Main card
MMA 93 kg: Luciano Zampieri (95.2 kg)* vs Arunas Andriuskevicius (93.3 kg)
MMA 84 kg: Alex Montagnani (84.5 kg) vs Shaun Lomas (83.9 kg)
MMA 93 kg: Przemysław Mysiala (93.3 kg) vs Dimitri Bouchet (92.25 kg)

Main event
MMA 66 kg: Leszek Krakowski (66.5 kg) vs Nathan Pinheiro Batista (65.5 kg)

Tickets for are available at: www.bilety24.uk, www.tickets.ie and www.celticgladiator.shop.  
Buy Ticket @ Official CG Shop Buy Ticket @ Tickets.ie