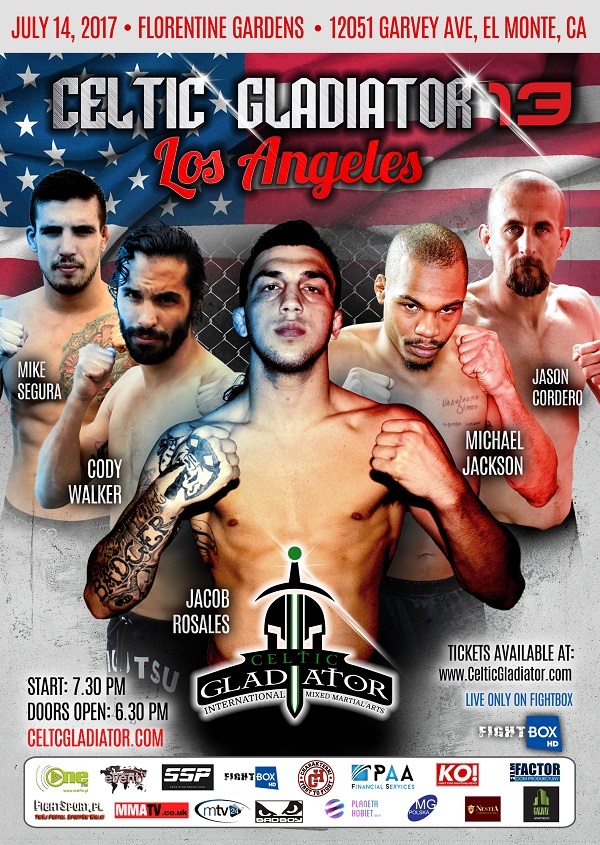 A featherweight duel that sees experience battle youth has been added to the Celtic Gladiator 13 card as Cody Walker will face Jacob Rosales. This duel will be the main of event.
29-year-old Jamaican, Cody Walker, represents the Sub-MMA and Next Generation MMA clubs and is coached by Adam Lynn. Cody has fought in Bellator and Legacy Fighting Championship in the past and has won 8 out of 14 fights so far in his professional career. He bases his game on Anderson Silva and started practicing martial arts at the age of 16.

Jacob Rosales is a 21-year-old American, fighting out of Combat Submission Wrestling (CSW). Jacob has been a champion in the California amateur ranks and boasts a professional record of 5 wins and 3 losses. He is coached by Ben Jones and is fascinated by wrestling. His idol is Erick Poulson.

Celtic Gladiator 13 Los Angeles takes place on 14th July 2017 in El Monte, California, near Los Angeles.
Tickets can be bought on the Celtic Gladiator website. www.celticgladiator.com