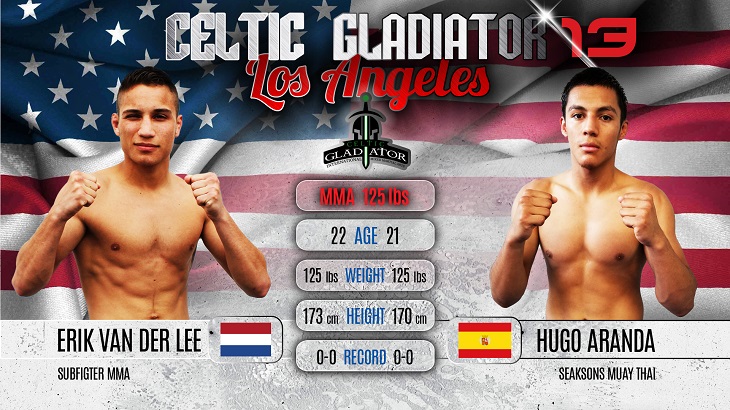 The battle between Dutchman Eric Van Der Lee and Hugo Aranda will be the lightest male fight in Celtic Gladiator 13 history as the two professional debutants will be duking it out at the flyweight limit of 125lbs.
22-year-old Erik Van Der Lee comes from Waddinxveen in the Netherlands, but lives in California and represents the Subfigter MMA club, where he trains under Adam Lynn. Erik started off his martial arts journey in 2013 when he started practicing Judo. He has 8 wins from 12 amateur bouts and his idol is the legendary Kazushi Sakuraba. Erik's favourite move is the triangle choke.

Hugo Aranda is 21 years old and represents the famous Seaksons Muay Thai founded by Thai boxing champion Saekson Janjira. Hugo is trained by Julio Trana and lives in Simi Valley, California. Hugo fought 9 times as an amateur, winning 5 of those bouts, with two of those victories coming by knockout. He believes in the power of his hands and his idol is Georges Saint Pierre.

Celtic Gladiator 13 Los Angeles takes place on 14th July 2017 in El Monte, California, near Los Angeles.
Tickets can be bought on the Celtic Gladiator website. www.celticgladiator.com