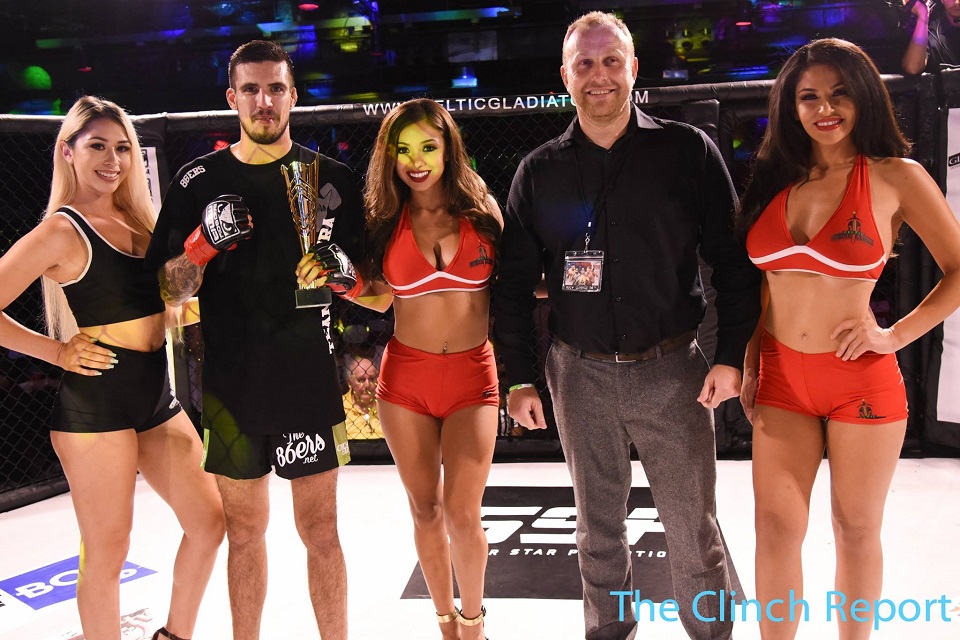 July 14th was a historic day for the Celtic Gladiator promotion as we hosted our first ever event in America, with Celtic Gladiator 13 in the Florentine Gardens in El Monte, near Los Angeles.
Fight fans in attendance, and those watching on Fightbox HD were treated to nine MMA fights, with two amateur duels and seven in the professional ranks.

In the main event of the evening Jacob Rosales, representing the Combat Submission Wrestling Club, beat Cody Walker, from the MMA Subfighter Club and Next Generation MMA, via TKO.
Full Celtic Gladiator 13 results:

Main event:
150 lbs: Jacob Rosales pokonał Cody Walkera przez TKO (uderzenia w parterze) w 1 rundzie 2:04 min

Main fight card:
155 lbs: Mike Segura def. Jason Cordero via TKO, 1 round, 4:47 min
155 lbs: Randen Abafo def. Brandon VanCleave via decision (Unanimous)
130 lbs: David Duran def. Benji Gomez via decision (Unanimous)
150 lbs: Michael Jackson def. Dru Schottenheimer via KO (Punch), 1 round, 0:28 min
125 lbs: Hugo Aranda Erik Van Der Lee via TKO (Punches), 3 round, 3:20 min
135 lbs: Taylor Alfaro pokonał Eric Rios via decision (Unanimous)

Amateur fight:
118 lbs: Tiani Valle pokonała Jennifer Penfield via TKO
170 lbs: Jean Paul Lebosnoyani pokonał Anthony Marsh via Submission (Guillotine Choke), 1 round