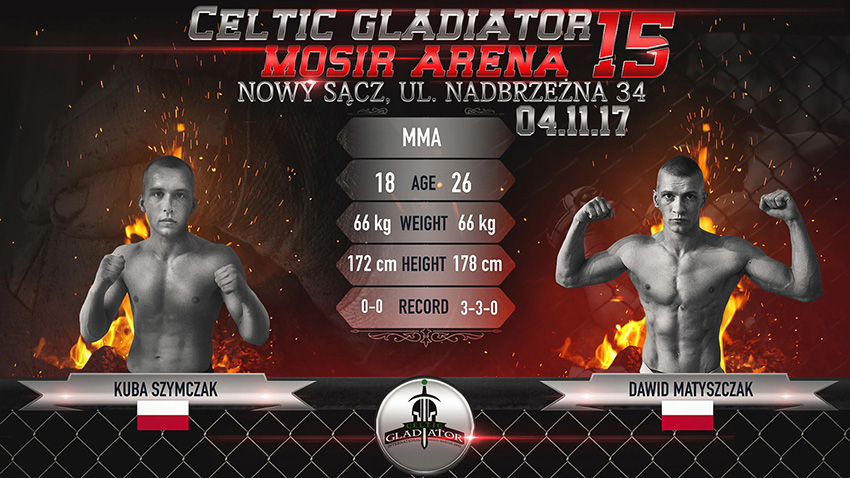 In Nowy Sacz won't be missed out the debut fight of  "young wolf" Kuba Szymczak (0-0-0) in the mma formula in Featherweight, will face Krzysztof Kułak's charge, Dawid Matyszczak (3-3-0). Kuba is 18 years old and is "hungry" for the first win in the league of professionals, it is worth pointing out that amateur was undefeated. Represents Club Top Team Łódź, where his skills are "polishes" under the supervision of Łukasz Zaborowski. He started with mma, started in 2016, his favorite fighter is Conor McGregor, and football is his hobby. Szymczak prefers fighting in the ground floor, and his favorite technique is choking. Dawid Matyszczak represents Adrenalin Fight Częstochowa, where he trains under the eye of aforementioned Kulak. He started as his opponent, from mma and also started from 2013, he is the holder of blue belt jiu jitsu. David's favorite technique is a "turn" on his head, he himself has no favorite fighter, except his coach. As for the fight, it's  another experience for him, and has victory only in sight. Outside the sport Matyszczak is a PE teacher, his hobbies includes martial arts, and obstacle courses.
There are two different styles here, which promises an interesting show! Will the"young wolf" withstand the pressure and triumph in the professional circle? or maybe he will feel the bitterness of a failure? Maybe it will be Matyszak "cool down" debuts of the newcomer and win in the style of his coach ??

We will see this on 4th November on Celtic Gladiator 15 in Nowy Sącz!
Tickets can be bought on the Celtic Gladiator website. www.celticgladiator.com