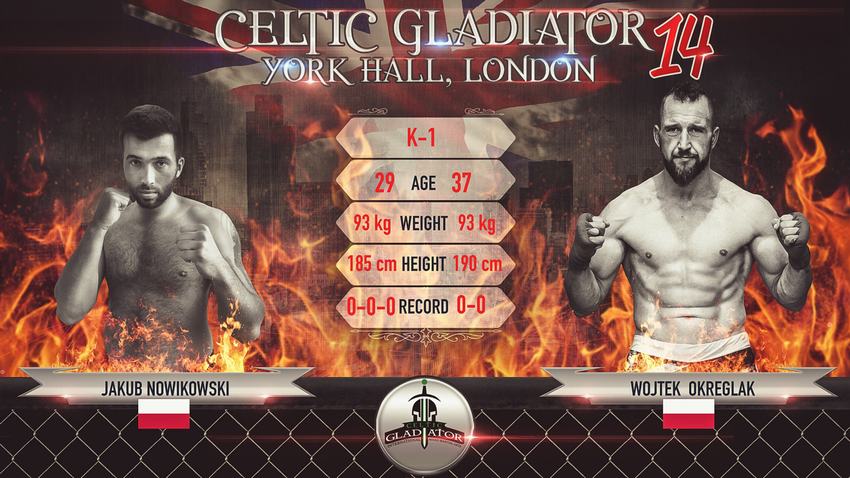 At Celtic Gladiator 14 in London another pair of newcomers will face,  this time the fight will take place in light heavyweight in the K1 Formula. Facing each other Wojtek Okręglak, who throws gloves to Jakub Nowikowski, Rhys Bruza Brudenell was suppose to be his previous opponent. Both fighters come from Poland. Wojtek debuts at the age of 37, some will say that it's too late, however, he is a Polish fighter from mountain in Giewont, who ground his skills at the Spartakus Gym in Zakopane.
He currently represents the Musashi Gym in Peterborough, and as every fighter who goes to our "cage" is no coincidence, he deserved it, worked hard and showed off his highland character. Kuba is 29 years old and is much younger than his opponent, lives in west london, represents the Fighters club, where his skills are trained under the supervision of trainer Michał Mańka. His first steps were as a boxer, he has been fighting since 2015, is a fast, strong fighter with a very strong blow. Nowikowski favorite technique is flying knee, but let's not get mislead... His favorite fighter is Mike Tyson, his opponents were "swept" with his huck and upper huck. As for his debut, he himself wants his dreams to become reality, in addition to martial arts, hobbistically treats fishing, where he can relax and think how to go out victorious in his debut in a prestigious federation like Celtic.

Two debuting polish fighters will want to make a "place" in the next edition of Celtic Gladiator. Will the highland character win?? Or maybe "younger blood"? It's all just here !!! be there with us, York Hall London!
Tickets can be bought on the Celtic Gladiator website. www.celticgladiator.com