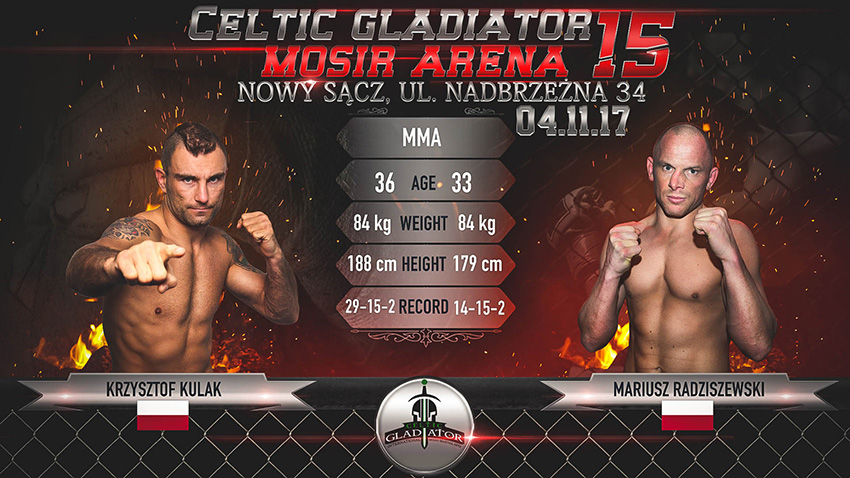 The Big World Championship fight in Celtic Gladiator middleweight in the mma formula, will take place in the next edition of Celtic Gladiator 15 Poland. In Nowy Sącz on November 4, in the MOSIR hall on ul. Nadbrzeżnej 34, the event of the world organization mma Celtic Gladiator will be held. The fans will be able to watch about 10 fights in different formulas. One of the main dishes will be the fight of Polish pioneer Krzysztof Kułak, who will once again defend the title. Popular "Model" is after 3 wins in a row and will surely want to prove to whom the belt belongs. The last performance was recorded at PLMMA 73 in Ciechanów, winning by strangling Michał Tarabańką. Marcin Radziszewski, will try to take away the Celtic Gladiator Champion's belt. "Radzik" The final fight took place in  PLMMA with experienced Mateusz Piskorz, after which he remained distasteful and sporty anger due to the controversial decision of the judges,lost to points. However, two previous battles ended ahead of time and in 2016 was undefeated.
Therefore, he got the chance to fight for the Celtic's Championship. Mariusz after the last battle, wants to prove to everyone that the judge's verdict was simply wrong. How better is to rebuild after the defeat, as not "dethroning" the champion. Asked what he expected from this fight, he replied:

" I'll show everyone what's the best in me and for the fans, I'll just take the Champion's belt and take it home." Strong words, but will Radzik make it with the Champion? Or will Kulak once again defended the title of Celtic, and will add another victory ??

 These questions "answer" in Nowy Sącz! Both fighters have the same number of defeats and draws with whom it will change?? Who will do a better preparation period? Stay with us on 4th November and watch the fight live, emotions guaranteed !!!
Tickets can be bought on the Celtic Gladiator website. www.celticgladiator.shop