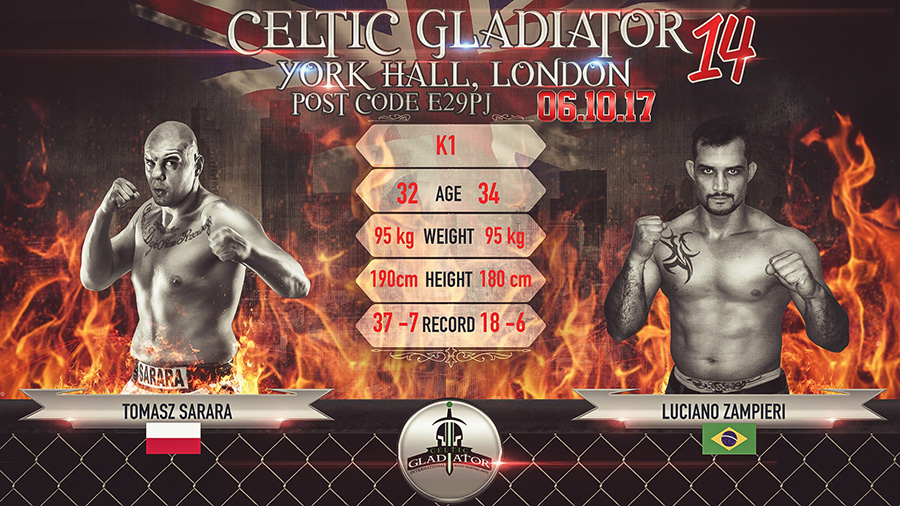 On October 6 in London's York Hall awaited by all K1 supporters, the big fight for the world championship Celtic Gladiator in light heavyweight K1. Tomasz Sarara (36-7-0-12KO) after winning 15 fights in a row, gets a chance to fight for the title, and his opponent will be very experienced Luciano "Zamp" Zampieri (36-7-0). Sarara is a fighter who has had a lot of success on the amateur and professional ring. Fighter versatile,multiple kickboxing champion of Poland, winner of the Bigger's Better boxing tournament of 2013. Sarara's class also demonstrates that his skills have been polished for years by his coach Ernest Hoost, winner of the most prestigious Japanese K1 World GP. It is under his eyes that this fighter has not lost a fight yet and his performances deliver unforgettable impressions. "Zamp" is a 33 year old Brazilian fighter.
Like his opponent, is very well-rounded, 4-dan holder in Hapkido, huge experience in kickboxing, muay thai and K1 . It is impossible to describe all the successes of Luciano in Latin America here are the last few: NTF Niteroi Top Fight  Champion in Rio de Janeiro 2015, Champion SANDA Boxing Cup Contest Chinese Boxing Toledo 2016, Brazilian Champion of K-1 by IKC Brasil Toledo 2016.

This is the "icing on a cake" of the upcoming CG14 London event, fans should rub their hands before this event. Tom is confident that he will record 16 wins in a row and become the holder of the Celtic Gladiator belt, but  Zampieri is approaching this fight with a similar "appetite" Champion.

One thing is certain, both fighters will do anything to triumph, and fans will certainly have something to "enjoy the eye on" Will Sarara score 16 wins?or  Will "Zamp" add such a prestigious title to his collection? For this event all sports fans are waiting for this event! And the questions will soon be broken in York Hall!!!


Tickets can be bought on the Celtic Gladiator website. www.celticgladiator.com