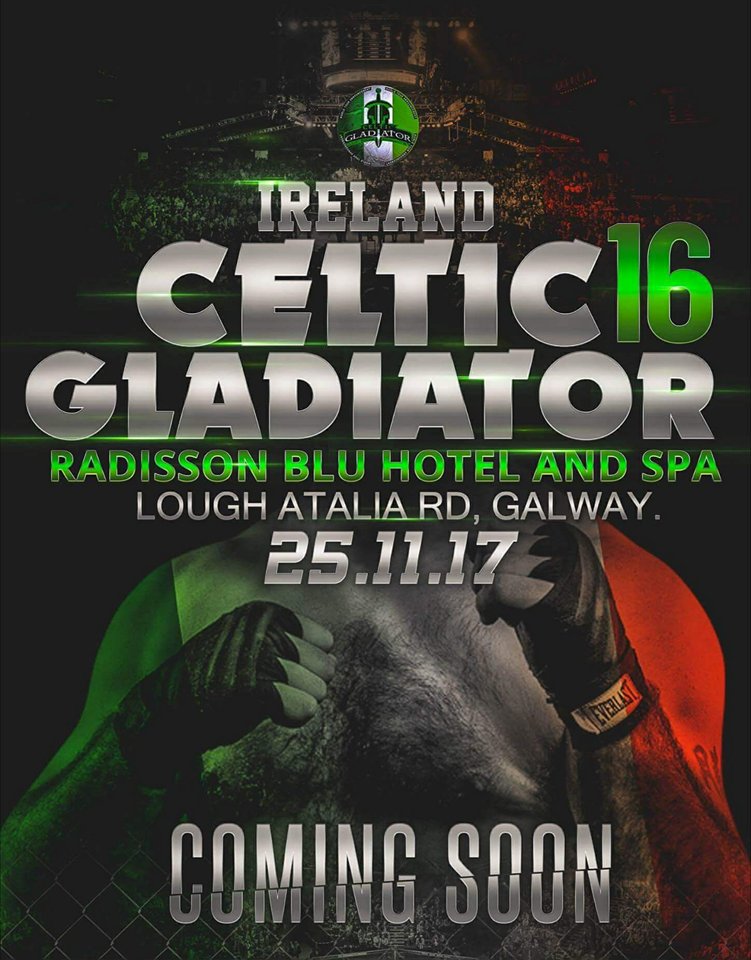 AMATEUR FIGHT CARD
Celtic Gladiator is delighted to release a partial card for its upcoming show in Galway on November 25th. These are some of the MMA, K-1 & Nogi fights already confirmed. Information & tickets available from Celtic Gladiator fighters and Social Media Outlets... 
GLADIATOR MATCH-UPS
Video Weigh-in at 10am Saturday morning. Password will be sent...
We still have people looking to be matched for K1 and Nogi. Message me if you are interested...
AMATEUR MMA:
MAIN EVENT - FINAL FIGHT
SUPER WELTERWEIGHT TITLE
ANDREEAS BINDER (5-3) (Shaolin Galway) vs JOHN MITCHELL (6-1) (Cork MMA)
CATHAL MANNING (0-1) (Point Blank) vs TREVOR MAKENGO (1-0) (C-MAC) Light Heavyweight
LEON HILL (3-3) (Full Power) vs EMIL PIATEK (3-0) (C-MAC) Lightweight
RYAN SCULLY (debut) (Cork MMA) vs FIONN HICKEY (SBG Cork) (0-2) Welterweight
GEAROID MCDONAGH (2-2) (Strange Wolves) vs RONAN TOMNAY (1-2) (Cork MMA) Featherweight
DARREN KIRWAN (1-0) (Shaolin Galway) vs PAUL NOLAN (debut) (Ryano Kilkenny) Bantamweight
COLM FARRAGHER (debut) (Shaolin Galway) vs KEITH DEANE (0-1) (Berserkers Cork) Welterweight
KACPER PLONKA (debut) (Husaria) vs COLM MCGIOLLA MHIR (debut) (SBG Primal) Featherweight
AMATEUR K-1:
ALEX KAPONE (IND) vs JJ RAJCA (Spirit MMA) 75kg
AMEDEO VISOCCHI (debut) (SBG Tullamore) vs KAMIL KWIATKOWSKI (debut) (Husaria)
EABHA CRUISE (0-1) (Spartan) vs KIYA O'SULLIVAN (1-1) (C-MAC)
NOGI SUBMISSION:
JAROSLAV BUJNOWSKI (Beserkers) vs WALDAMAR CICHY (Nenagh Warriors)
PATRYK PREPIORKA (Beserkers) vs THOMAS MURPHY (Nenagh Warriors)
EVAN HENRY (Berserkers) vs BARRY KENNEDY (Atlantic Jiu-Jitsu)
NATHAN KENNA (Full Power) vs JORDAN BRADSHAW (C-MAC)
IMMAA OFFICIALS FOR EVENT:
Mariusz Domasat (Husaria)
Liam-Og Griffin (SBG Cork)
Paul Aylmer (Limerick MMA)
Stefan Moriarty (Legends)
Derek Black (IND)
MEDIC TEAMS:
CODE BLUE (Glen Ellis)
THE CUT-TEAM (Joseph Clifford)
MC:
Noel O'Keefe
 
Tickets for Celtic Gladiator are available now... www.celticgladiator.shop