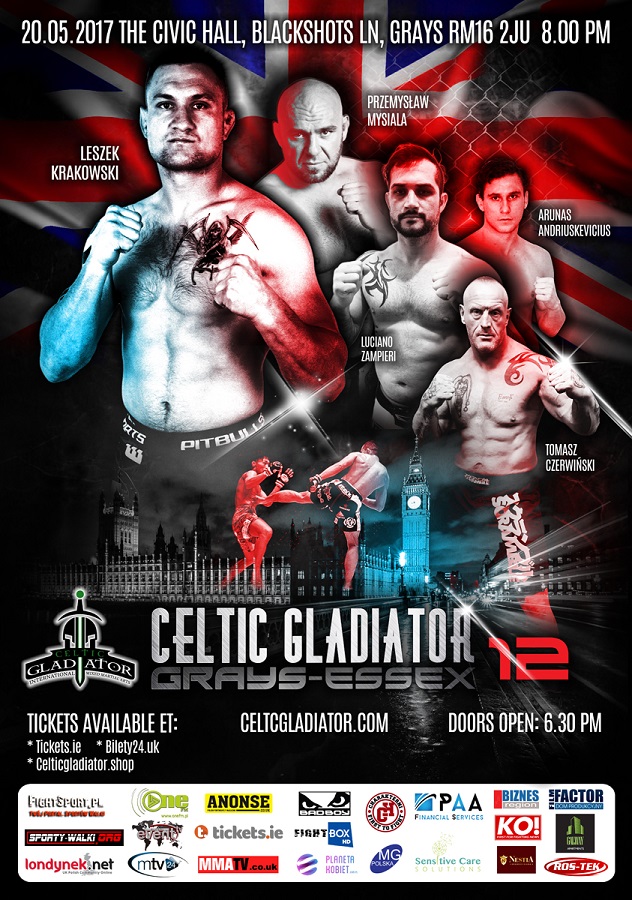 In just a few short weeks, Celtic Gladiator will return to Great Britain to hold a huge card featuring 12 MMA and K-1 fights. Celtic Gladiator 12 takes place on the 20th May in the intimate surrounds of the Civic Hall, at Blackshots Lane in Grays.
Celtic Gladiator is an Irish organisation, owned by businessman, Albert Jarzebak, and is consistently providing exciting fights featuring a mix of up and coming fighters and experienced veterans from the UK, Ireland and Poland and other countries spread across the globe. Our show in Grays will be no different, as it will be headlined by Polish featherweight superstar, Leszek Krakowski (10-1). Krakowski's opponent will be announced in the near future.

Fans can expect to see a blend of youth and experience, with the added boon of knowing that the majority of the fighters on the card live in the United Kingdom, including MMA veterans Przemyslaw Mysiala (20-9) and Tomasz Czerwinski (9-13), as well as the debuting Adam Chetnik. The international diversity on display is highlighted by a battle between Poland and Georgia, which sees Radoslaw Dziabkowski (2-3) face Gia Barkalaia (0-2) and a cross continent clash between Brazilan Leonardo "Loirinho" Gosling (5-4) and Jose Agustin Garcia (2-1) from Spain.

Celtic Gladiator fans in Great Britain will see the first ever female combatants to light up our arena, with two K-1 kickboxing bouts. Katarzyna Twardowska from Poland will face Filipa Mourao from Portugal in the flyweight division and Australian fighter, Gemma Montefiore will face the UK's own Cill Wan in an atomweight contest.

Celtic Gladiator have seen some of the top mixed martial artists fight under out banners, including KSW champions, Artur Sowinski and Krzysztof Kulak, UFC fighters Artem Lobov and Piotr Hallmann and two weight UFC champion Conor McGregor.

Last year Celtic Gladiator had two events, Celtic Gladiator 10, which took place in London, and Celtic Gladiator 11, which was in Krakow. This year we plan on having shows in the Ireland, the USA and Poland.

Tickets for Celtic Gladiator 12 Grays are available at: www.bilety24.uk, www.tickets.ie and www.celticgladiator.shop.