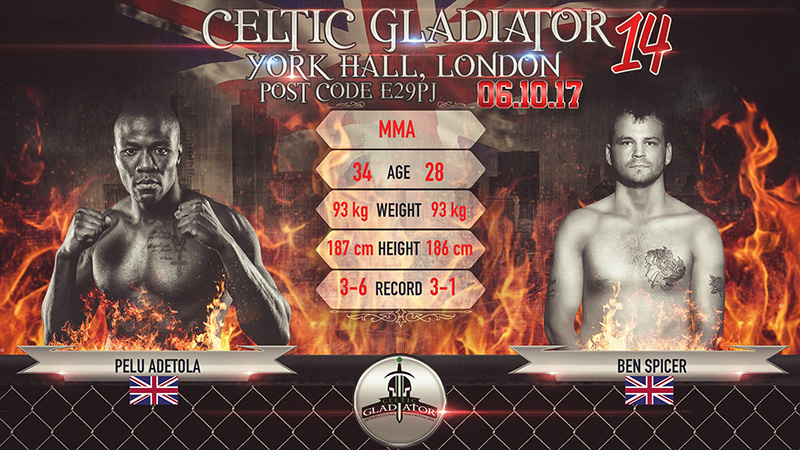 Another interesting bite for viewers of mma on Celtic Gladiator 14 London, will be a light heavyweight fight between: Ben "warrior" Spicer vs Pelu "the nigerian diamond" Adetola. Ben Spicer (4W (3KO) -1D-0L) is a fighter, who has not yet felt the bitterness of a defeat, originating from United Kingdom, born in Ashford. A great number of his fans will appear on the battlefield, countrymen, that will support him with doping, that will certainly add him wings. The "Warrior" began as a karate fighter, battling since 2015, his strongest attributes is strength, speed and strong punches, his favorite fighter is Conor McGregor. Ben Spicer is dedicating his fight to his grandfather that has passed away of cancer and for that reason he will want to "get to" in the best style and for his grandfather- RIP. Pelu Adetola (3W-6L) began with muay thai, his professional start began at the age of 27 years. His powerful side is excellent training in muay thai, but also wrestling, the best technique is suplex.
Jone Jones and Jimmy Manuwa are his favorite fighters "nigerian diamond" hobby is reading, jogging and spending time with family. Pelu Adetola has changed a lot in his training, his focused 100%, there's only victory in his head.
 Who will win this confrontation? Does the "warrior" carried by compatriots doping celebrate  memory of Grandfather and will stay with a clear record?? Or maybe the "Nigerian Diamond" after training changes will show in new version? These questions will be resolved on 6th October only with us, Welcome!
Tickets can be bought on the Celtic Gladiator website. www.celticgladiator.com