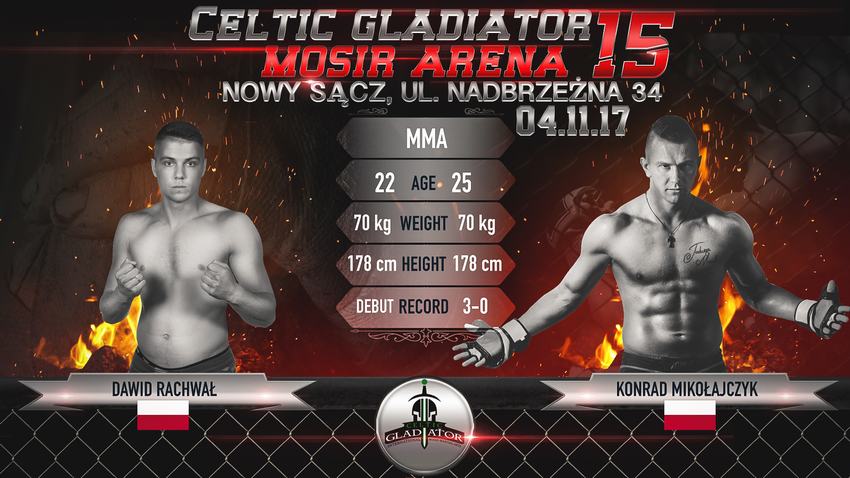 Konrad "Copka" Mikolajczyk (3-0) vs. Dawid Rachal (0-0-0) is another pair of fighters in the Celtic Gladiator 15 Nowy Sącz fight Card. "Copka" comes from Nowy Sacz and represents not another club like Halny, his skills are polished under the supervision of trainers Rafał Wilk and Grzegorz Janus. Konrad started from Kyokushin, then trained boxing,  and from his 21st  K1 and mma, on professional rings he started from 2016. Mikolajczyk won the gold medal in BJJ in the 77 kg category, so BJJ is his strong side, he also feels good in wrestling, and his favorite technique is "Balacha". "Copka" idol is Conor McGregor, outside the sport he himself owns a transport company, his hobbies include motor sports, music, tuning cars and motorcycles and everything that delivers adrenaline.
As for the fight he wants to win, preferably ahead of time, because it is most enjoyable for his Copka-Team. Dawid is a Debut, representing Combat Team Dębica and Thai Gym Tarnów, where he trains under the supervision of Adam Szela and Rafał Król. He fought 19 times, 14 times he won, 4 defeats and once a drew, he won 1st and 3rd place in the amateur championship for KSW trophy. He has been training since 2009 and started off in 2011, wanting to win in his professional debut and do it in style after a good fight. Beyond the sport he is a designer in a family business, and his hobby is sport.

Will "Copka" win his 4th professional title and stay unbeaten?? How will Rachwal take his Celtic Gladiator 15 debut?? 

Buy Ticket for Celtic Gladiator 15.